Glass inserts for aluminium frame profiles
We produce furniture doors with aluminium frames in different sizes (with place of hinges and handles). We produce this products with glazing.
Production lead time: 5 working days (with glazing: 10 working days).
Option: heat-resistant or polished glasses.

If you want to order heat-resistant, polished or foiled glass, please ask our colleagues for a quote.



Glass sizes into the ALU frame types: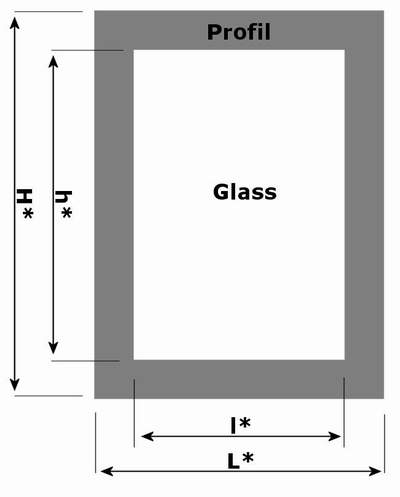 ALU1 profile:
H* - 28 mm = h*
L* - 28 mm = l*
ALU2 profile:
H* - 90 mm = h*
L* - 90 mm = l*
ALU3 profile:
H* - 83 mm = h*
L* - 83 mm = l*
ALU4 profile:
H* - 5 mm = h*
L* - 5 mm = l*
ALU4/2 profile:
H* - 2 mm = h*
L* - 2 mm = l*